Originally developed, in part, to augment bird hunting and to provide a method of practice for bird hunters. Use of targets was introduced as a replacement for live pigeons. Indeed, one of the names for the targets used in shooting games is clay pigeons. Trapshooting is typically shot with a 12 gauge shotgun. Smaller gauge firearms (e.g., 16, 20, 28 gauge) can be used, but no allowance is given. Trapshooting is shot at either single or double target presentations. This refers to the number of clay targets which are launched simultaneously.
Trap shooting requires the use of a target throwing device(s). American Trap and DTL utilize a single trap machine which is typically enclosed within a traphouse, downrange from the shooters' shooting positions. The house provides protection of the machine (e.g. from weather and errant shots) and also acts to obscure the machine's oscillating throwing position. Trap shooting has been around since the 18th century. A publication known as "Sporting Magazine" states that by the year 1793, trap shooting was "well established" in England.[4][2] The first record of organized trap shooting in the United States is likely to have taken place at the Sportsman's Club of Cincinnati, Ohio in 1831.[5][2] Originally, live birds were used as targets, released from under hats.
The technique for trapshooting is fundamentally different from rifle or pistol shooting. The latter shoots one projectile and aims to place accurately at a usually stationary target, and usually with at least a few seconds to aim. Trapshooting involves shooting hundreds of pellets at a time, at a target that is moving quickly downrange, and often quickly laterally, typically with less than a second to move the gun and fire. Instructors generally refer to the process as "pointing" the shotgun rather than aiming it.[12]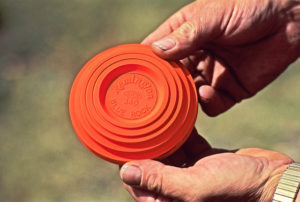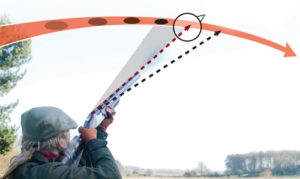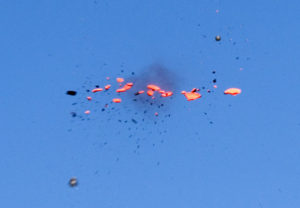 A recreational and competitive activity where participants, using shotguns, attempt to break clay targets mechanically flung into the air from two fixed stations at high speed from a variety of angles.
The experience is in part meant to simulate the action of bird hunting. The shooter shoots from seven positions on a semicircle with a radius of 21 yards (19 m), and an eighth position halfway between stations 1 and 7. There are two houses that hold devices known as "traps" that launch the targets, one at each corner of the semicircle. The traps launch the targets to a point 15 feet above ground and 18 feet outside of station 8. One trap launches targets from 10 feet above the ground ("high" house) and the other launches it from 3 feet above ground ("low" house).
At stations 1 and 2 the shooter shoots at single targets launched from the high house and then the low house, then shoots a double where the two targets are launched simultaneously but shooting the high house target first. At stations 3, 4, and 5 the shooter shoots at single targets launched from the high house and then the low house. At stations 6 and 7 the shooter shoots at single targets launched from the high house and then the low house, then shoots a double, shooting the low house target first then the high house target. At station 8 the shooter shoots one high target and one low target.
The shooter must then re-shoot his first missed target or, if no targets are missed, must shoot his 25th shell at the low house station 8. This 25th shot was once referred to as the shooter's option, as he was able to take it where he preferred. Now, to speed up rounds in competition, the shooter must shoot the low 8 twice for a perfect score.

SAFETY IS EVERYONE'S RESPONSIBILITY
FUNDAMENTAL RULES OF SAFE FIREARM HANDLING
ALWAYS KEEP GUNS POINTED IN A SAFE DIRECTION.
ALWAYS KEEP GUNS UNLOADED UNTIL READY TO SHOOT.
ALWAYS KEEP YOUR FINGER OFF THE TRIGGER UNTIL YOU ARE READY TO SHOOT.
ALWAYS KNOW YOUR TARGET, AND WHAT IS BEYOND AND SURROUNDING IT.
GENERAL RULES ON THE RANGE

GUN ACTIONS/BREACHES WILL REMAIN OPEN AT ALL TIMES WHEN HANDLED.
DO NOT LOAD UNTIL YOU ARE IN/ON YOU'RE SHOOTING STATION.
RE-OPEN ACTIONS IMMEDIATELY BEFORE LEAVING A STATION.
NEVER GO ONTO THE FIELDS; NEVER PASS THE SKEET OR TRAP HOUSES.
NEVER SHOOT UNDER THE INFLUENCE OF DRUGS OR ALCOHOL.
SHOOTERS MUST WEAR EYE AND EAR PROTECTION.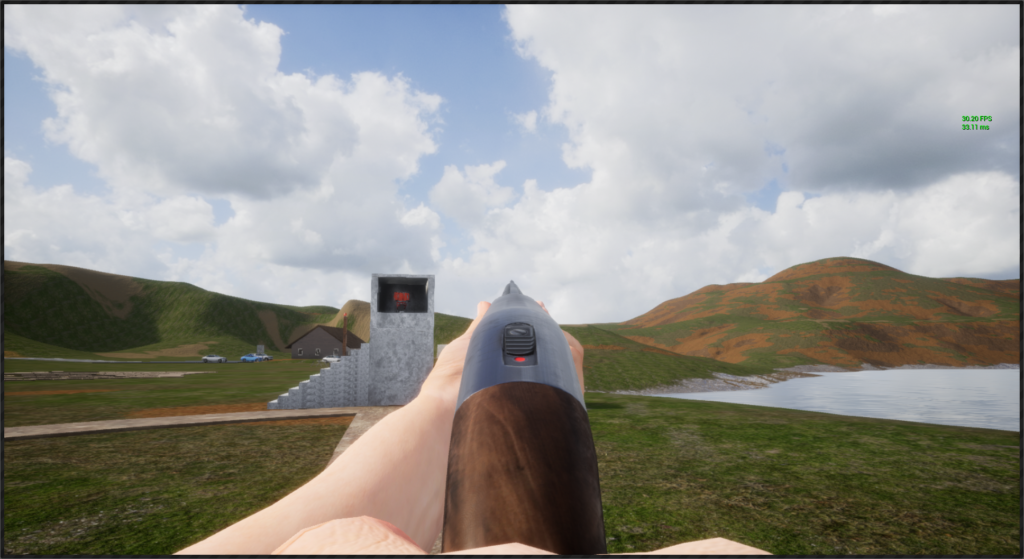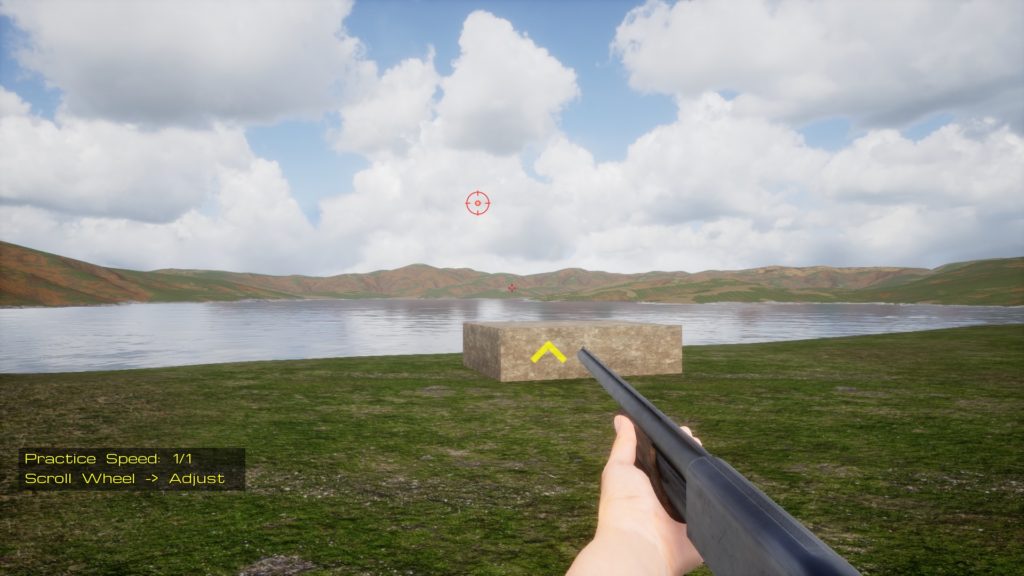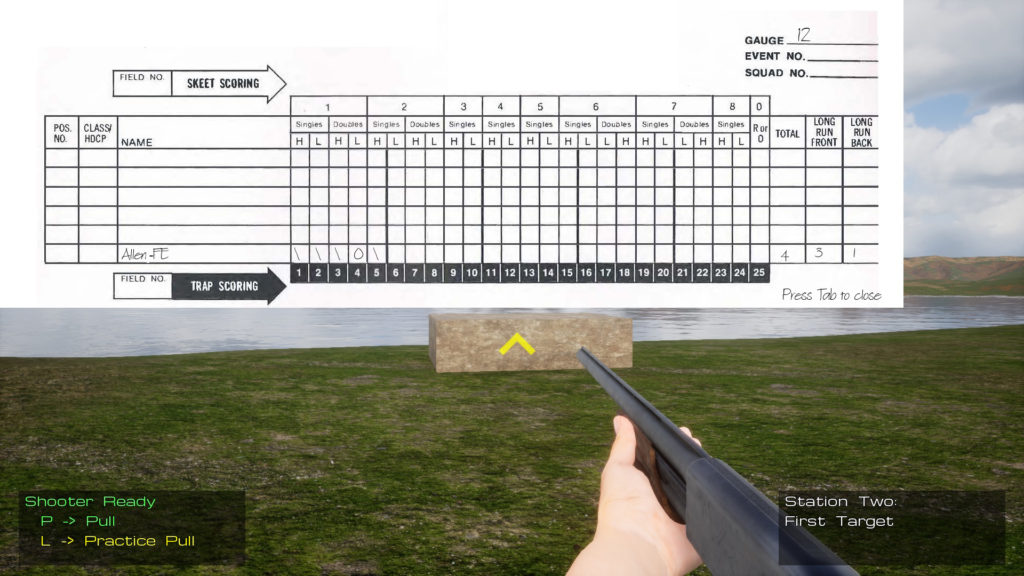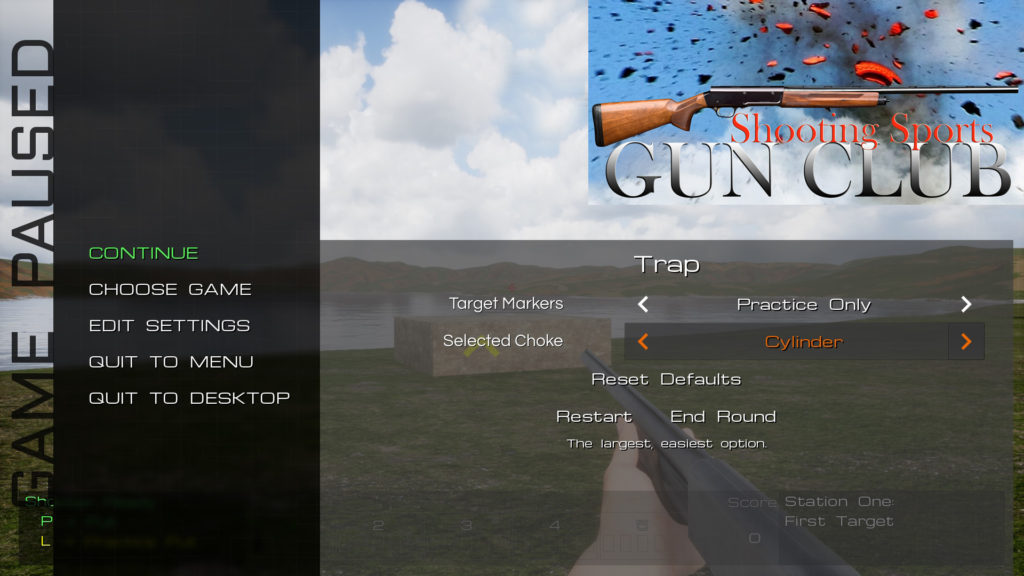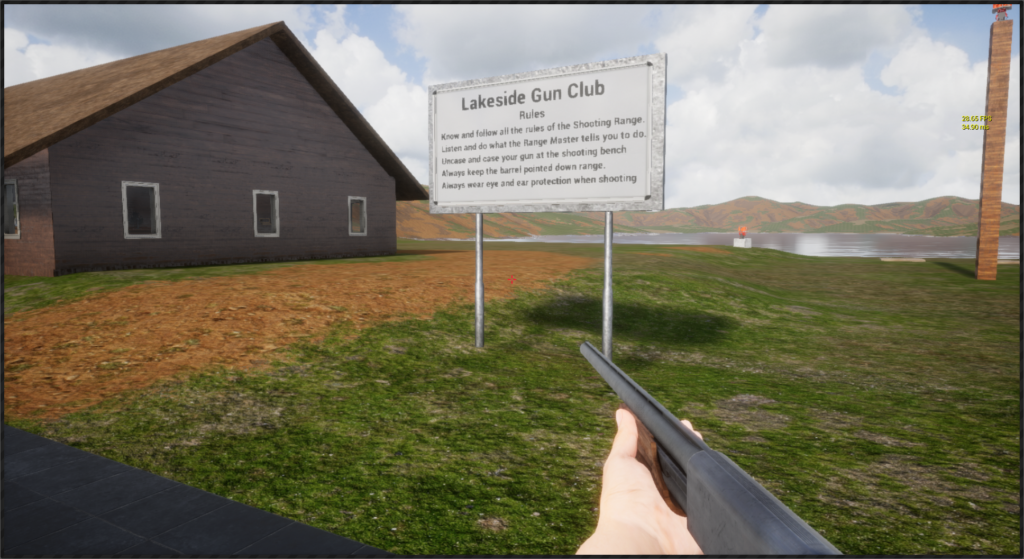 Play Skeet, Trap & 5 Stand from your computer!
While the local range is closed, you can still practice your clay target shooting right from your PC with our shooting sports simulation game on Steam – CHECK IT OUT